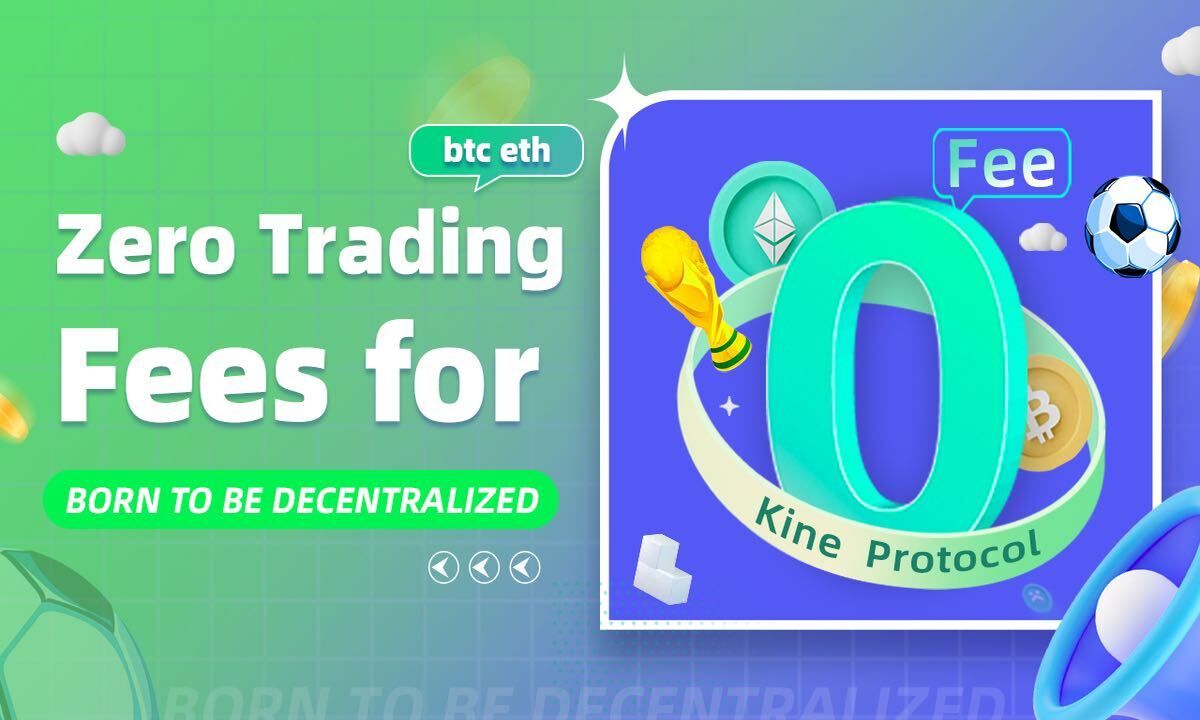 Kine Protocol, a one-of-a-kind decentralized exchange (DEX) for trading derivatives, now introduces the launch of zero-fee trading for BTC and ETH.
In the wake of collapsing centralized crypto exchanges, the need for cost-efficient, reliable and fast DEXs has never been greater. Kine Protocol comes with zero trading fees. So far, this move alone has brought great scalability to decentralized economies.
"Kine is a derivatives trading platform where any asset, crypto or non-crypto, can be traded with up to 100x leverage."

According to Kine's team
At its launch, Kine's DEX initiated a $7 million financing round that saw the participation of popular VC firms in the DeFi space, such as Blockchain Capital, DeFi Alliance, and Spartan.
The team behind the Kine Protocol boasts years of experience in the derivatives market, with several members of the team having worked with conventional banking institutions such as HSBC, Citi Bank, and Merril Lynch.
So far, Kine Protocol has made low gas fee smart chain assets on Ethereum Binance Smart Chain, Polygon and Avalanche with more chains to come. To the uninitiated, derivatives are investment products that are based on an underlying asset, such as stocks, commodities, and currencies.
Kine Protocol offers a decentralized derivatives trading platform that provides a similar experience to what you would find on a centralized exchange.
In addition to the low gas cost, Kine Protocol recently launched its zero-fee trading promotion to give its recent users a significant boost in their ability to trade derivatives with ease and with cost-efficiency. Kine keeps things simple and secure thanks to its capacity to offer fast, transparent, and effortless trading on multiple blockchain networks.
With Kine Protocol, traders can access 100-fold leverage. In addition, users on this DEX can even go as far as holding multiple positions on the same asset without any mix-up, thus allowing traders to create a sophisticated decentralized portfolio.
Future outlook of DeFi derivatives
DeFi derivatives enable all sorts of decentralized finance solutions to traders and investors alike. With DeFi derivatives, traders in the DeFi space can trade stocks, forex, indices, commodities, and more.
With its DEX, Kine Protocol is paving the way for increased sophistication of decentralized finance derivatives. Kine's DEX offers a CeFi-like trading experience that is not only fast and efficient but also transparent.
Christmas special blind box campaign
Good news to all holiday enthusiasts! We are also excited to announce that the annual Christmas blind box event, "The Christmas Accelerator", is taking place this year in December.
Kine will be cooperating with the famous Web3 credential data network Galxe and launching this blind box campaign.
By integrating social and play-to-earn elements into the Kine Game Center module, these campaigns bring brand-new experiences to community members and explore new ideas for DEX development.
About Kine Protocol
KINE Protocol is an Ethereum-based decentralized derivatives protocol designed to build an infinitely liquid derivatives marketplace and help users trade derivatives fast, transparently, and conveniently.
All transactions are supported by the industry's innovative [Peer-to-Pool] engine, which maximizes capital efficiency based on optimal leverage through a state-of-the-art cross-margin function.
Social media:
Official Website | Whitepaper | Twitter | Telegram
Disclaimer
All the information contained on our website is published in good faith and for general information purposes only. Any action the reader takes upon the information found on our website is strictly at their own risk.