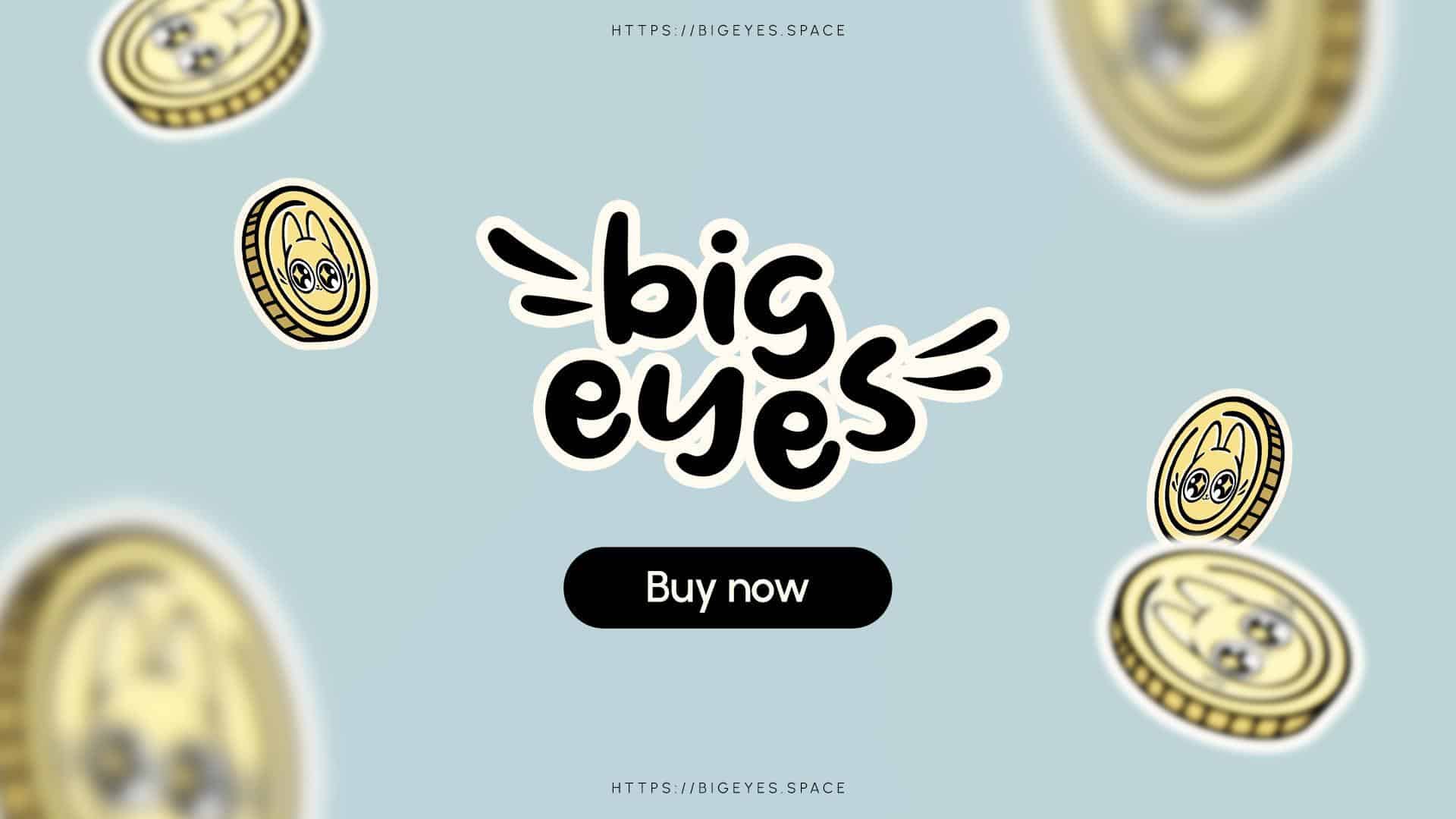 Place/Date: – December 26th, 2022 at 10:00 am UTC · 5 min read
Source: Big Eyes Coin
The whole cryptocurrency sector is eager for this time of down prices and extreme market volatility to come to an end. Investors should stock up on promising altcoins now when crypto prices are so low owing to the bear market in expectation of future enormous returns. It is a tried-and-true strategy that can address the current problems in the sector.
Investing in the crypto stocks discussed below could result in sizable returns despite the current bearish market. We examine their benefits as superior profitable crypto investment options below. Especially promising is the up and coming meme coin, Big Eyes Coin (BIG).
ApeCoin (APE)
ApeCoin (APE) is a popular token that has been significantly impacted by the year's gloomy turn. The coin was released by the Bored Ape Yacht Club, the biggest NFT trading community in the world. ApeCoin was suggested as the fuel currency for the network when the club decided to build a Metaverse platform.
As a  revolutionary utility token, Apecoin (APE) facilitates access and trading for the Bored Ape decentralized community. It is at the forefront of web 3.0 development, and the Apecoin DAO, which oversees the protocol, controls it. As a result, ApeCoin (APE) gives users access to the wide range of services and programs offered on the ApeCoin platform. Even if the creators have a supply, the NFT marketplace allows the construction of NFT collections, especially for community members.
Filecoin (FIL)
Filecoin (FIL) is fundamentally a decentralized technology that enables users to rent out unused computer storage space. Of course, individuals can also purchase the storage space listed on the network. Joining the global Filecoin network is free, allowing for the use of large amounts of data storage. Since FIL is a proof-of-work token, the Filecoin community can mine it to increase its coin supply.
Filecoin's expansive network, which offers a more advanced interpretation of data storage, is at its core. Filecoin may aid in conceiving of a future independent of centralized storage providers because it places issues of trust and decentralization at the core of data and privacy.
Near Protocol (NEAR)
Near Protocol (NEAR) is another decentralized blockchain platform that intends to facilitate the development of decentralized apps (DApps). The "blockchain trilemma", which consists of the problems with security, scalability, and decentralization, was addressed by the development of Near Protocol (NEAR). Building decentralized applications (dApps) that may deposit or lock funds and transfer funds or user data is simpler on this platform.
VeChain (VET)
A blockchain network called Vechain (VET) is dedicated to digitizing the supply chain sector. It offers a public blockchain at the enterprise level to make it easier to store, manage, and transmit data securely throughout supply chains. VeChain (VET) has a lot of promise and is probably going to be among the top gainers in the upcoming bull market given its current relationships and prospective applications.

Hedera (HBAR)
Hedera (HBAR) is one of the most popular open-source protocols used by companies and developers to create versatile digital infrastructures. The protocol makes extensive use of the distinct distributed ledger technology known as Hashgraph, which boosts its speed and scalability.
Users make use of the special network to carry out a variety of tasks, such as the execution of smart contracts, consensus services, tokenization, and file storage. Due to this, the multipurpose protocol is widely used. Analysts think that Hedera's (HBAR) current low price is an excellent opportunity to buy and benefit from a good yield when the company ultimately suffers a price pump.
Sandbox (SAND)
In the GameFi industry, The Sandbox is a virtual token with rapid growth. Users can customize their gaming experience on the Ethereum-built platform while utilizing its free resources to build games, avatars, and other digital infrastructures. The Sandbox gives users the finest possible functionality, enabling them to take full advantage of the metaverse's advantages. The Sandbox's native coin, SAND, serves as the basis for all transactions. Users can use it to conduct metaverse transactions, while token holders can use it to control the platform's DAO. It is a leading crypto asset that has grown in importance over time.
Big Eyes Coin (BIG)
Before it ever officially launches on any exchanges, the new meme cryptocurrency, Big Eyes Coin (BIG) has gained a lot of popularity. A lot of exciting new features are in store for the token's users and the wider crypto community. It is a new and promising one.
Through its decentralized exchange platform, Big Eyes Swap, the Big Eyes Coin (BIG) ecosystem promises to provide a highly safe and user-friendly environment for trade. With every user that owns a BIG token becoming a significant investor in the network, decentralization will also play a significant role in the network. This implies that users can participate in and actively contribute to the ecosystem's development.
Final Thoughts
Finding the best tokens to purchase is indeed challenging. However, missing out on Big Eyes presale can bring about a huge regret when the token is officially released. Big Eyes Coin (BIG) has distinguished itself from other meme coins, and the token is expected to rank among the top digital currencies on the market. Join the presale now to avoid missing out! Claim bonus tokens by using the code: BIGG1662.
Big Eyes Coin (BIG) Presale, Website, Telegram.
Subscribe to our telegram channel. Join