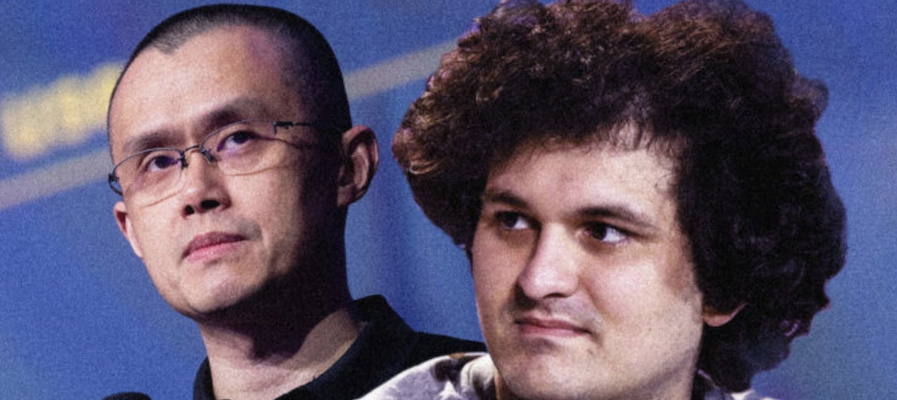 Join Our Telegram channel to stay up to date on breaking news coverage
Changpeng Zhao, the CEO of Binance, revealed on Tuesday that his company had a tentative agreement to buy rival Sam Bankman-FTX Fried's for an unknown sum. According to Bankman-Fried on Twitter, the acquisition excludes the individual U.S. businesses of the two cryptocurrency exchanges, FTX US and Binance US.
"It will take some time because there is a lot to discuss. This is a very dynamic issue, and we are monitoring it as it develops "Zhao posted on Twitter early on Tuesday. "Binance reserves the right to terminate the agreement at any moment. As events unfold in the upcoming days, we anticipate that FTT will be quite volatile."
This afternoon, FTX asked for our help. There is a significant liquidity crunch. To protect users, we signed a non-binding LOI, intending to fully acquire https://t.co/BGtFlCmLXB and help cover the liquidity crunch. We will be conducting a full DD in the coming days.

— CZ 🔶 Binance (@cz_binance) November 8, 2022
The FTT token fell as low as $2.51 on Tuesday morning because to speculations that FTX had stopped allowing withdrawals. Users of FTX receive discounts on their trading feeds and referral commissions when they utilize the token. On hearing of the impending deal, Binance Coin (BNB), FTT's counterpart on Binance's exchange, soared 10% to $368.07.
If the merger goes through, two of the biggest bitcoin exchanges in the world will be together. According to data from CoinGecko as of Tuesday morning, Binance and FTX together accounted for $34 billion in trading activity, or 25% of all deals on centralized exchanges.
Zhao and Bankman-Fried both stated that the deal will be thoroughly investigated by the teams working for them.
1) Hey all: I have a few announcements to make.

Things have come full circle, and https://t.co/DWPOotRHcX's first, and last, investors are the same: we have come to an agreement on a strategic transaction with Binance for https://t.co/DWPOotRHcX (pending DD etc.).

— SBF (@SBF_FTX) November 8, 2022
In his own thread on Twitter, Bankman-Fried confirmed the arrangement, stating that the two exchanges had consented to a "strategic transaction." He also addressed a backlog in withdrawals that seemed to be the cause of rumors that the exchange had stopped accepting withdrawals on Tuesday morning.
"The withdrawal backlog is currently being cleared by our teams. This will eliminate liquidity issues and ensure that all assets are covered 1:1 "wrote Bankman-Fried. "One of the key reasons we invited Binance in is because of this. We regret that it can take some time for everything to settle."
Although Zhao and Bankman-Fried have both insisted that they weren't fighting, since the weekend, things have appeared heated.
Where did this all begin?
Years ago, the foundation for all of this was established. In 2019, Binance was a pioneering investment in FTX. When regulator pressure on Binance rose in July of last year, FTX purchased Binance's share. "I think there are certain distinctions between how we conduct our company," Bankman-Fried stated at the time.
Bankman-Fried told Decrypt that "we strive really hard to be as cooperative as we can with regulators" and that "I think that's more likely to lead to cases where regulators would feel like they have no option but to start bringing the hammer" when one is "less flexible or receptive."
Although the FTX CEO refrained from saying so directly, it was evident from the split that he believed Binance was acting in a more combative manner than he would.
FTX used its FTT token to reimburse Binance for the shares it had lost.
The two exchanges first appeared to be fierce rivals since they both increased their global footprints in March, just before the cryptocurrency meltdown. With Bankman-Fried claiming to have $1 billion to spend on saving struggling crypto companies, Binance and FTX were the front-runners in the race to secure the assets of defunct exchange Voyager as recently as September. At the same time, he claimed that the worst of the crypto crisis was passed.
FTX's approach was rejected by Voyager, which referred to it as "a low-ball bid masquerading as a white knight rescue." However, FTX eventually won and paid $1.4 billion.
Binance made waves in October by supporting Elon Musk's $44 billion acquisition of Twitter. While this was going on, Texas officials were looking into claims of securities violations against Bankman-Fried.
The last manoeuvre
A day after on-chain data revealed that Binance had already traded $584 million worth of its FTT on Saturday, Zhao tweeted on Sunday that Binance planned to liquidate its holdings in FTT.
The announcement had a quick effect. According to blockchain intelligence company Nansen, Ethereum and ERC-20 tokens worth $1.2 billion have been taken out of FTX in the last day.
According to Nansen, stablecoin balances on FTX have decreased by $377 million during the last two days. Along with its Tether (USDT) balance, which fell from $140 million to $32 million over the same time period, the exchange's USD Coin (USDC) balance fell from $164 million at the end of last week to $30 million on Tuesday.
According to Nansen, two significant withdrawals from FTX included moves of $201 million worth of Ethereum by cryptocurrency lender Nexo and 37 million ETH and 25 million USDT by asset management Arca.
Zhao has insisted that Binance's choice to liquidate its FTT was not a planned move to foment fear, confusion, and doubt—commonly abbreviated FUD on Crypto Twitter—against his rival, despite what appears to be a heated Twitter back and forth.
Funny memes, the media, and some individuals attempted to portray this as a "battle," he claimed. Sorry to disappoint, but I prefer to develop instead than fight, stated Zhao.
Related
Dash 2 Trade – High Potential Presale
Active Presale Live Now – dash2trade.com
Native Token of Crypto Signals Ecosystem
KYC Verified & Audited
Join Our Telegram channel to stay up to date on breaking news coverage