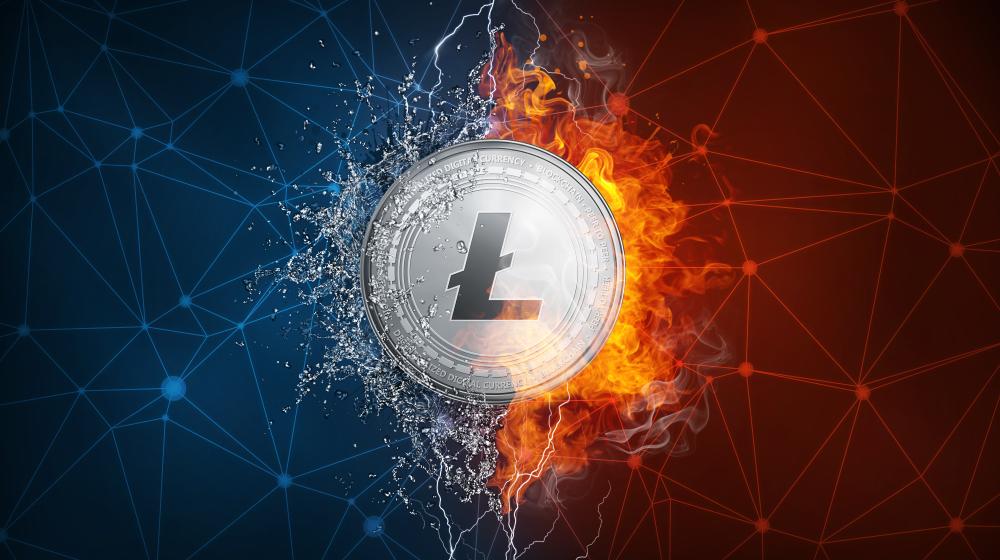 Source: VIsual Generation – Shutterstock
The blockchain network powering Litecoun has never been down for 11 years.
Litecoin has remained among the most used integrated cryptocurrencies by top e-commerce and fintech service providers.
---
Amongst the legacy digital currencies in the blockchain ecosystem, Litecoin (LTC) appears to be one of those that has lost its luster to the general public. However, to analysts, the coin is not just undervalued, it is mistakenly shunned by investors.
From a mere glance, Litecoin has outperformed a lot of its peers including Bitcoin (BTC), Ethereum (ETH), and XRP (XRP) over the past year as the crypto winter rages on. Per data from CoinMarketCap, Litecoin is down by 56.9 percent over the past year and is currently changing hands at $67.10. Within the same period, Bitcoin has slumped by 67.3 percent to $16,614.64 while Ethereum and XRP have dropped 70.5 percent and 61.5 percent to $1,192.83 and $0.357658 respectively. 
The sustained growth of Litecoin might take precedence in the fact that the blockchain network powering the digital currency has never been down in its 11 years of existence, adding credibility to the trust in it as a viable payment alternative.
On-Chain Proofs of LTC's Resilience
Data from Santiment, a crypto price analytics service provider shows that Litecoin has maintained a relatively high resilience when compared to Bitcoin. The LTC/BTC price ratio is notably up by 130% since June 12 and the Litecoin protocol just recorded the highest number of addresses holding at least 1000 LTC in their wallets.
💡 #Litecoin's price ratio vs. #Bitcoin remains up big since large addresses began popping up at historic rates starting in May. Since June 12th, the $LTC / $BTC price ratio is up +130%. The network just hit the most 1,000+ $LTC addresses in 2 years. 🐳🦈https://t.co/ebgP2kw1tQ pic.twitter.com/Jq3AdhAMPO

— Santiment (@santimentfeed) December 27, 2022
This metric currently negates the assumption that the crypto winter is negatively impacting the usability of top digital currencies like Litecoin. This metric is further enshrined in the call that Litecoin's price can effectively bottom out at a price range of $25 to $30.
On-Chain analyst, @profit8lue projects with the chart above that if Litecoin can pull off a sustained bear resistance in the next market crash, chances are that a double bottom as seen above will be formed which will be a good setup for a renewed price run-up.
Profit Blue's projections can be tagged as a worst-case scenario of a market crash riding on the current bearish sentiment the FTX implosion has introduced into the industry as a whole. Over the past year, Litecoin has only touched $40.68 as its worst price, and the chances that the bulls will give up this record to satisfy the conditions set out by Profit Blue is slim.
Ecosystem Growth and Rising Utility
Drawing on its legacy, Litecoin has remained among the most used integrated cryptocurrencies by top ecommerce and fintech service providers. While it tagged along Bitcoin, Ethereum, and Bitcoin Cash (BCH) to be integrated as a payment means on Paypal, Crypto-News Flash reported earlier this month that it was featured prominently in the new Metamask-Paypal integration for Web3 users.
Besides, Litecoin holders have an increasingly growing number of outlets wherein they can spend their coins. Some of these outlets include but are not limited to Bitpay, MoneyGram, Shopify, and NowPayments.
#PaywithLitecoin via::

🛒 Bitpay
🛒 Coingate
🛒 Shopify
🛒 Flexa
🛒 MoneyGram
🛒 PayPal/Venmo
🛒 CoinMe/CoinStar
🛒 CakePAY
🛒 Cryptocom Pay
🛒 Nowpayments
🛒 Coinbase Commerce
🛒 AlfaCoins
🛒 Coinpayments
🛒 CryptoBucks
🛒 Binance Pay
💳 Litecoin Visa Card #Litecoin ⚡

— Litecoin (@litecoin) December 27, 2022
With the Litecoin Foundation introducing more utility for the community, instances where the coin outranks other innovative protocols like Solana (SOL) can be recorded in the coming year.