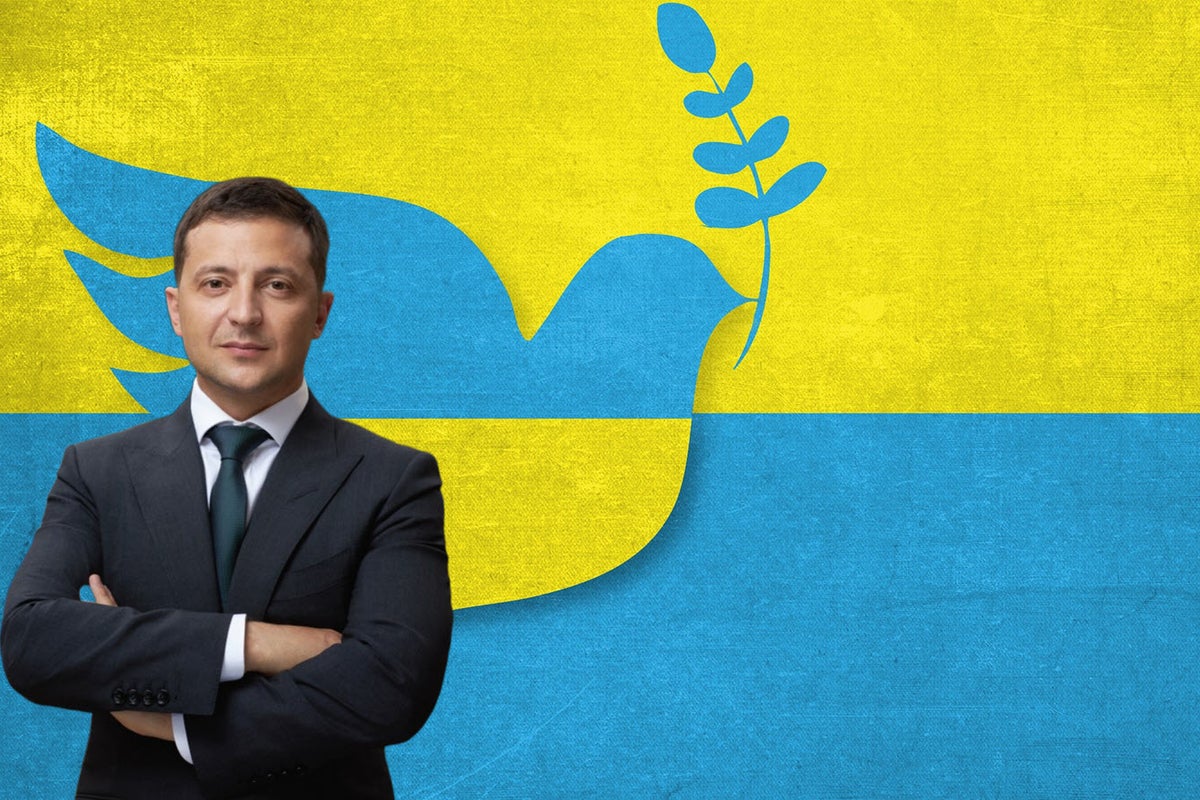 Ukraine President Volodymyr Zelenskyy is the first war-time leader since Winston Churchill to speak before a joint session of the U.S. Congress.
In his trademark army green shirt, Zelenskyy's visit to the U.S. was inspirational as well-timed. It was his first trip overseas since the beginning of the country's war with Russia and it came as Congress is to decide on $45 billion in additional aid that the Biden administration is recommending as part of a $1.7 trillion funding bill necessary to keep the U.S. government operating.
Zelenskyy said in his speech before Congress: "Against all odds and doom-and-gloom scenarios, Ukraine didn't fall. Ukraine is alive and kicking. And it gives me a good reason to share with you our first, first joint victory: We defeated Russia in the battle for the minds of the world."
The crypto world could benefit from that kind of ferocity in the face of peril. Crypto has also been part of the story of support for Ukraine. 
The Crises Of Winter Lead To Innovation
In his address before Congress, Zelenskyy spoke to the people of the U.S., the world and Ukraine as they enter a winter that Russian attacks on Ukraine's power grid and infrastructure will exacerbate.
But for a crypto industry enduring its own metaphorical winter, his words can also apply — the industry faces significant obstacles, though it has won many hearts and minds. Crypto is also in an existential quest for legitimacy.
Ukraine and crypto are forever intertwined in history, especially at the start of Putin's "special military operations," because it became an important use case in support of the value of crypto in times of crisis.
Donations in cryptocurrency were important for the ability to cross international borders despite closed transfers between national banks in the region. Donating in crypto helped the money get there faster and more reliably, and the Ukraine government acknowledged the necessity of embracing crypto.
In March, the Ukraine Ministry of Digital Transformation issued a statement fast-tracking crypto legalization in the country. Zalenskyy signed the bill on virtual assets into law which freed up $100 million in donations that poured in following the invasion of Ukraine by Russia.
Ukraine solicited private donations in crypto on Twitter and on its website. The Ukraine government website currently accepts donations by bank transfer, credit card, PayPal and crypto.
According to Crystal Analytics, more than $184 million in crypto donations had been received by Ukraine as of Nov. 30, 2022. Of the cryptocurrency donated, 61% went to support military efforts and 39% went to humanitarian aid.
The majority of the donations were made in Ethereum ETH/USD, which approximately totaled $56 million, $44.5 million was made in Tether USDT/USD and $38.4 million in Bitcoin BTC/USD.
Crypto is just a small part of donations overall. A March statement from the National Bank of Ukraine showed that more than $6 billion Ukraine hryvnia (UAH) was transferred to a special military account and over $253.5 million UAH was received in foreign fiat currency.
Recently, UN Refugee Agency (UNHCR), announced it was working with the Stellar Development Foundation (SDF) to launch a first-of-its-kind blockchain-based payment distribution system for bringing funds to displaced people within Ukraine. So crypto has secured a valuable role on the global stage.
AI and Web3 Empowering Medical Care in Ukraine
Vidby, a Swiss-based software-as-a-service (SaaS), which provides automated video translation and dubbing services into 70 languages, was working with Harvard University to provide videos translated into Ukrainian that help train doctors and military personnel who provide medical care in Ukraine's war zone.
In a world already largely interconnected, human language barriers may be one of the great impediments to instant communication. Vidby was starting with the hard part, providing highly specialized translations that have zero tolerance for mistakes in providing potentially life-saving information.
Benzinga interviewed Eugen von Rubinberg, CEO and co-founder of Vidby, to learn more about how the partnership formed and how AI translation will empower Web3 and a more interconnected world with fewer communication barriers.
BZ: How did your partnership with Harvard University begin?

ER: When we first reached Harvard University, they told us they didn't need our services. They were unsatisfied with any sort of provider out there because their videos were "frankly not being translated correctly" as it was.
As soon as they heard that Vidby specialized in innovative AI technologies, they immediately said, "No, we have already done all the research, we have already done our due diligence, and we are definitely not interested in any sort of further automated translation software."
BZ: How did you persuade them to try your services?
ER: We said let us just do one translation as complicated as you want it to be. It was quite a complicated translation.
In review, they only found 1.5 small mistakes in the translation. The word semiconductors was mistranslated into wires. That was the only mistake.
BZ: What is the difference between Vidby and other text transcription AI solutions?
ER: No other software on the market can differentiate these complicated topic-related words, whether it's healthcare-related or other industries, and we have a software mechanism in which different dialects, accents, industries and specializations can be identified and translated correctly and in the local dialect. It is universal and with automated translation that can identify how to communicate certain words effectively.
BZ: Is the language barrier one of the great impediments to worldwide communication?
ER: Absolutely it is. It is the largest sector right now. The main problem in the world is communication. And artificial intelligence is going to change the world. Everyone will soon be able to see and hear every video in a very cost-effective manner, quickly and with a very high quality that has yet to be seen on the market.
Right now, we have video translation as a functionality. At the beginning of next year, we will offer synchronization so that both parties can speak in their local languages when they have a telephone conversation. That way, you can speak to someone in China, Japan or wherever in the world, and they will be able to hear it in their local language. The aim is to make it available to everyone for everyday use.
BZ: Was healthcare always part of the original vision? Or did the attack on Ukraine create a pressing need?
ER: Out of crisis, the best ideas begin. Our co-founder [Alexander Konovalov] only speaks Russian and Ukraine. Out of necessity to communicate with the outside world when you don't know the exact words, that's how it evolved.
BZ: Is Web3 a growth area for AI translation?
ER: In Web3, they are currently working on ideas. They have ideas at the moment. But it's too early to give concrete information. It's something that we will be able to share next year.
BZ: In March, Vidby had a token sale. Has Web3 been a significant part of your fundraising?
ER: We've seen a lot of advantages by going into Web3. When you live in Switzerland, you are in the middle of the Crypto Valley, and are surrounded by incredible crypto thought leaders.
Vidby pursued the principle that one token equals one share, and we use the Ethereum ETH/USD blockchain. We've seen that it has a lot of advantages in terms of communicating with your investors in a much more efficient manner and more effectively, especially over the app, where we have general meetings. We see that by stepping into that area, there are a lot of benefits, and we're working on ideas to expand further and solidify a Web3 path forward.
More About Videy and Ukraine
Working with Harvard University, Vidby translated 21 training videos from English into Ukrainian, taking care of pronunciation and stress in each word to provide a precise result that could help convey crucial medical information and save lives. The videos were posted on the Global Medical Knowledge Alliance YouTube channel.
One of the few silver linings of this persistently bearish market, within the crypto world and beyond, is that Web3 projects are focusing on providing real utility. Crisis does lead to innovation, as von Rubinberg said.
If during the holiday season, you would like to donate to Ukraine Red Cross you can do so securely on its site. And a reminder, if you want to donate using crypto, the Ukraine government site gratefully accepts that form of payment.
Photo: Alexandra_Koch from Pixabay.