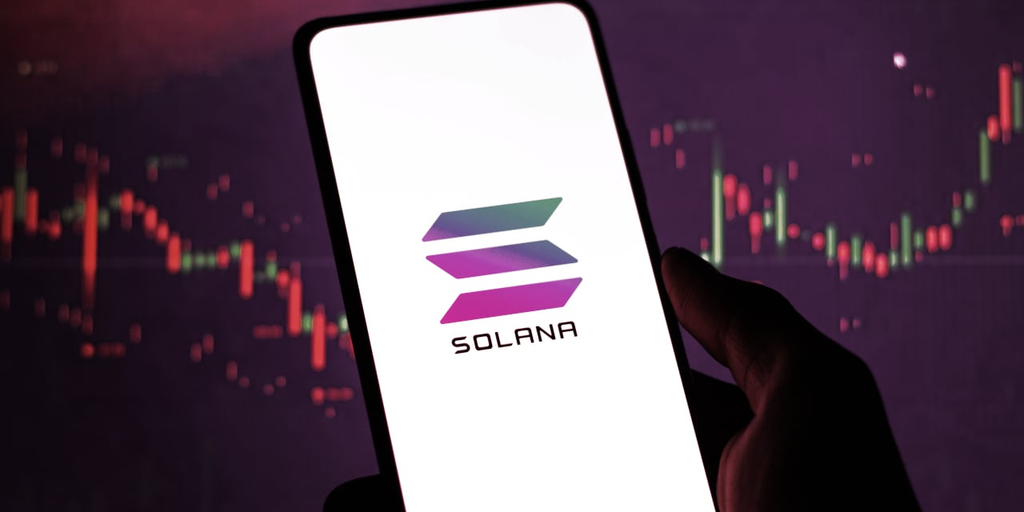 In brief
Solana has shed 16% of its value in the last 24 hours, continuing its recent string of losses and falling out of the top 20 coins by market cap.
SOL's price hasn't been this low since February 2021. It has lost 97% of its value since peaking in November 2021.
Solana's fortunes are only getting worse, as the coin of the layer-1 blockchain platform and so-called "Ethereum killer" has fallen a further 17% today, continuing recent declines. In the process, the coin has fallen out of the top 20 cryptocurrencies ranked by market cap, according to data from CoinGecko.
SOL dropped as low as $8.17 per coin this afternoon, the lowest price seen since February 2021. On Wednesday, it slid below the $10 mark for the first time since that same month—but the price has only fallen more sharply over the last 24 hours.
Even at the slightly rebounded price of $8.30 as of this writing, SOL is now down 16% over the past day. That brings its seven-day drop to nearly 32%, and two-week decline to 41%.
Overall, Solana has lost nearly 97% of its value since peaking near $260 in November 2021, and the coin is down over 95% since the start of 2022.
Due to the decline in price, Solana has fallen out of CoinGecko's top 20 cryptocurrencies, as its market cap has dipped to just over $3 billion in total. As of this writing, Solana is ranked 22nd on the platform's market tracker.
Solana had until recently been ranked in the top 10, and its market cap peaked above $76 billion in November 2021. It's the only coin in the top 100 that has posted a double-digit percentage loss today.
Solana fell sharply this afternoon, shedding more than a dollar of value with no single apparent cause at present. However, the once-soaring cryptocurrency—which Decrypt named its coin of the year in 2021 following a surge in value and chain activity—has faced a string of challenges this year.
The most pressing, of course, was the downfall of FTX and Alameda Research. Both firms had invested heavily in SOL and the Solana ecosystem, and Sam Bankman-Fried—the well-known co-founder of both companies—was an outspoken advocate of Solana.
When FTX collapsed in November, the entire cryptocurrency market took a hit—but Solana was battered more significantly than other major coins, shedding much more value as the close association with Bankman-Fried and his companies appeared to take a toll on Solana.
The blockchain platform has also weathered technical challenges in 2022, with multiple periods of network downtime. And just this week, the creator of two of the most popular Solana NFT projects—DeGods and y00ts—said that they will be bridged to Ethereum and Polygon, respectively, due in part to feeling constrained by the declining Solana ecosystem.
Solana-based tokens like Serum (SRM) and Solend (SLND) are also down sharply today.
Stay on top of crypto news, get daily updates in your inbox.