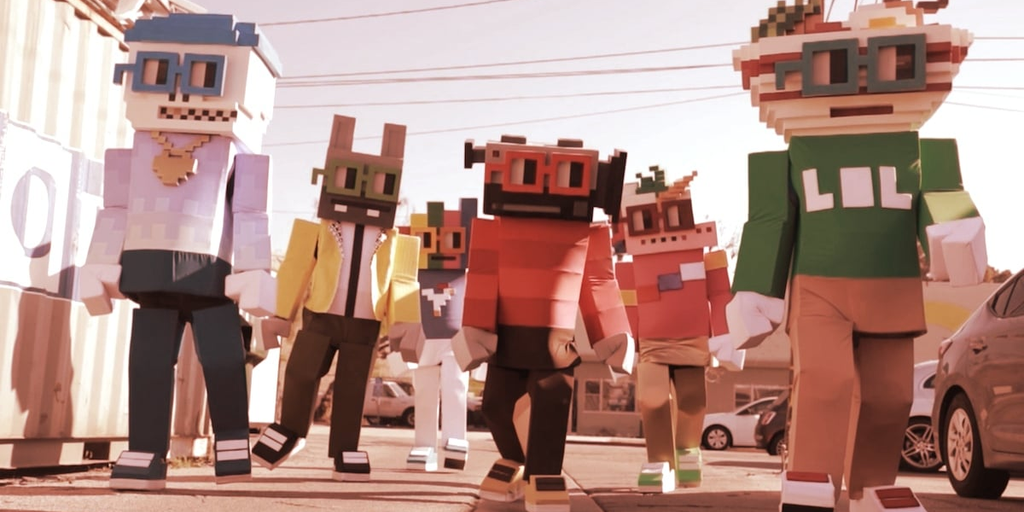 In brief
A parade float based on the Nouns NFT project will appear in next week's Rose Parade, alongside costumed characters.
The project was proposed and built by Stoopid Buddy Stoodios, co-founded by actor Seth Green, and funded by the Nouns DAO.
The Nouns NFT project has already appeared in a Super Bowl commercial as well as an indie film. Next, the pixel characters and their boxy glasses (or Noggles) will jump into the real world as part of next week's Rose Parade through an initiative voted on and funded by the Nouns DAO.
On January 2, 2023, a Nouns-themed float and six costumed characters will appear as part of the 134th annual Rose Parade in Pasadena, California, which takes place ahead of the Rose Bowl college football showdown between Penn State and Utah.
Stoopid Buddy Stoodios—the company behind the TV series "Robot Chicken" and "Marvel's M.O.D.O.K."—pitched the idea to the Nouns community of NFT holders in April. The studio, which was co-founded by actor Seth Green—himself an NFT aficionado—proposed creating the parade float and costumes, as well as filming it all for a documentary film.
Nouns is a unique Ethereum-based project that auctions off a single NFT pixel character each day, with all of the ETH funneled into a community treasury. Noun owners can vote on proposals that tap into that treasury—which currently holds some $32.7 million worth of ETH—to fund projects that expand the project's aim of building open-source IP.
As noted, the Nouns glasses appeared in a Super Bowl commercial from Bud Light, as well as on limited edition cans of the popular beer. Nouns will also appear in the indie film "Calladita," and the DAO has funded projects ranging from physical Noggles to Web3 education initiatives to an appearance at New York Fashion Week.
"The goal of Nouns is to proliferate the meme," Stoopid Buddy Head of Development Chris Waters told Decrypt. "The Rose Parade is a cultural institution in America with a viewing audience over 30 million every year. As a volunteer-run event that focuses on fun, creativity, and community, it's the perfect fit for Nouns, which shares those values and that culture."
In this case, Stoopid Buddy Stoodios requested nearly 610 ETH to fund creation of the parade float, costumes, and film, which was approved by the DAO in June. The funding was valued at over $1.1 million as of June 1, when the proposal passed, although 610 ETH is only worth about $723,000 today due to the declining value of Ethereum.
A DAO, or decentralized autonomous organization, is an online community with a shared goal or purpose, with membership typically represented through ownership of blockchain tokens. In this case, Nouns DAO membership is based on owning one of the NFTs, allowing holders one vote per NFT towards community proposals.
Stoopid Buddy announced today that its "Meet the Nouns" float and costumed characters are all set for next Monday's parade, following the months-long process of pitching its plan to the DAO, gaining entry into the Rose Parade, and then bringing the project to life.
Rather than recreate specific existing Nouns NFT avatars, which are built from a randomized set of character attributes, Waters told Decrypt that the six costumes spotlight a variety of traits from the project. One even has a nod to "Robot Chicken," its stop-motion animation hit.
"We really wanted to show off the fun and positive side of Nouns and crypto," explained Stoopid Buddy co-founder Eric Towner. "There were so many possibilities, but ultimately we landed on building the biggest and most ridiculous thing we could come up with: a 65-foot-long float covered in flowers, and [marching] it down the street in front of millions of people."
In addition to its TV series, Stoopid Buddy Stoodios also creates the costumes for Fox's competition series "The Masked Singer," and created animation for Marvel's recent "The Guardians of the Galaxy Holiday Special." Earlier this year, the studio released its own Stoopid Monkey NFTs via Nifty Gateway.
Green announced earlier this year that he was working on a TV series called "White Horse Tavern," which features his owned Bored Ape Yacht Club avatar and other NFT characters interacting with human actors. Production was paused when his Ape NFT was stolen, although Green ultimately paid about $300,000 worth of ETH to recover the asset in June.
Stay on top of crypto news, get daily updates in your inbox.