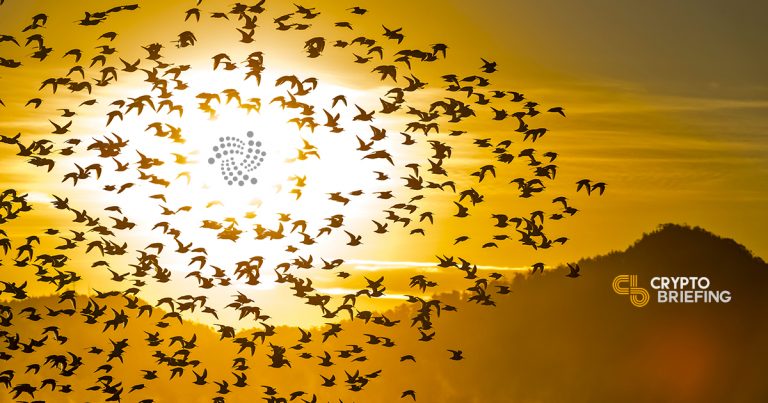 Hyperledger will indirectly support IOTA payments.
IOTA has announced IOTA Connector, a bridge system that can be used to mirror data and trigger actions between IOTA and Hyperledger Fabric. The new system will allow businesses that rely on Hyperledger to make use of IOTA's various features, including feeless payments, encrypted transaction payloads, and Masked Authenticated Messaging.
According to IOTA's official announcement, the IOTA Connector is especially useful for companies that are involved with supply chain tracking. IOTA adds that these projects will benefit by using IOTA as a cryptocurrency, given that most Hyperledger variants have no native payment capabilities – crypto-based or otherwise.
IOTA has also implied that the IOTA Connector will eventually work with other blockchains and platforms, but for now, the system is primarily aimed at Hyperledger. "At this point we are considering the Hyperledger Fabric DLT – in which all data are initially stored and managed – as the primary source of truth," IOTA's announcement states.
IOTA Connector unites two very different systems. Hyperledger Fabric is a permissioned blockchain that is typically used by enterprises in a restricted or private environment. IOTA, by contrast, is a permissionless or public ledger – it offers a cryptocurrency, and its transactions are validated by a public network.
Despite IOTA's permissionless nature, its applications closely resemble those of permissioned blockchains. IOTA is designed to handle data for the Internet of Things and the machine economy, and those capabilities are very useful in product traceability. As a result, IOTA and Hyperledger both cater to industrial users.
IOTA believes that it can unite the two systems: "We've been working to progress the state of DLTs in a permissionless context … However, this does not mean we don't see the value in permissioned systems as well." It adds that the connector will ultimately allow "more fluid data sharing and validation" between both types of systems.
The IOTA Connector is the product of a collaboration with the Linux Foundation, which began in September. But although this partnership is significant, it is not the first time that IOTA has pursued interoperability. IOTA's Qubic project is working toward interoperability as well, but with a focus on oracle data and outsourced computation.
Meanwhile, Hyperledger has an interoperability project of its own: Hyperledger Quilt makes use of a Java-based Interledger implementation to send money across any payment network. There are also third-party interoperability solutions for Hyperledger: last year, Ark created a Hyperledger bridge that is very similar to IOTA's new system.
There are also countless general interoperability projects, including Corda Settler, Polkadot, and Cosmos. Though each project takes a different approach, IOTA Connector is not entirely unique, and it remains to be seen whether companies will choose it over other alternatives. Nevertheless, interoperability is thriving in the blockchain world.