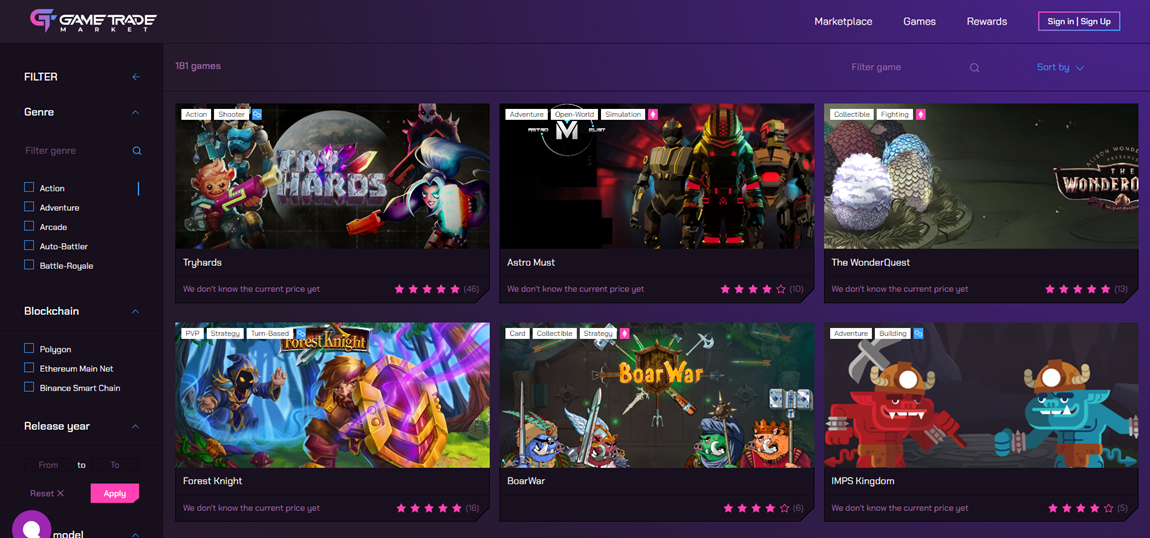 NFT marketplaces are an important resource for people looking to earn value on web3. These platforms provide central locations where users can buy, sell, and trade NFTs, which, for those new to the space, are digital assets that are recorded on a blockchain and can take many forms, including artwork, collectibles, in-game items, and more. They can be created or minted, bought, won, gifted or earned. On an NFT marketplace, users can potentially generate income by buying NFTs at a low price and reselling them for a profit, or by creating and selling their own NFTs. They also provide an important source of liquidity, making it easier for users to buy and sell these assets and potentially earn returns on their investments.
GameTrade.market is a specialized marketplace that caters to the needs of casual web3 gamers and professional NFT traders. It offers a variety of features designed to make buying, selling, and trading virtual in-game NFTs as convenient and easy as possible. Through a built-in set of community empowerment features, users can communicate with one another, track prices, and set up automatic buying and selling, as well as trade items directly with other GameTrade users. In addition to fixed price options, GameTrade also offers auctions, allowing users to get the maximum price for their items.
Backed by names like Polygon, Blockchain Game Alliance and bitsCrunch, GameTrade is evolving a more fundamental value case for NFT marketplaces than the bigger more well known names that serve a mainly art and speculative price based market.
" Contrary to other NFT marketplaces we do not focus on crypto enthusiasts and speculative traders. Having started in 2017, we saw the rise and fall of bitcoin, altcoins, ICOs. We also expect NFT hype to go away in a year or two, leaving only real businesses alive.
For long term purposes we are preparing our ecosystem for casual users who will view NFTs as a means of technology rather than a piece of hype or trend. " —– Gleb Doykhen, Gametrade co-founder
Accessibility and community
The marketplace supports a range of popular games, including Axie Infinity, Neon District, Town Star, Spider Tanks, Mirandus, Fortified, Lost Relics, and many others. The team at GameTrade is always on the lookout for new and promising projects, and carefully researches gameplay, game economies, and communities before adding a game to the platform. This ensures that the games on the platform are of high quality and have a strong following among players.
Users can browse through lists of supported games with filters to sort by game category, device compatibility and other features, or check out what's trending, highest ranked and free-to-play games.
One of the standout features of GameTrade is its support for multiple crypto wallets. This is particularly useful for gamers and NFT traders who may have many different game accounts, as it allows them to easily manage and trade across all of their accounts on Polygon, Ethereum and BNB Chain. This feature is not offered by many other NFT marketplaces, making GameTrade a go-to destination for committed gamers, traders and web3 earners.
But GameTrade is more than just a marketplace – it's also focused on growing an engaged community. Users can review games, items, and other users, as well as engage in activities like direct messaging and participating in referral programs. With its user reputation system, game reviews, item reviews, user-generated game guides, and commenting functionality, GameTrade fosters a strong sense of community among its users. It's a place for gamers to connect with one another and share their love for the games and NFTs that they enjoy.
The platform also offers users the chance to earn GTM NFT cat avatars by completing tasks and being active in the community.
In terms of security, since every transaction on GameTrade is secured on-chain, items cannot be stolen or duplicated without direct consent of the lawful owner. This gives users peace of mind when buying, selling, and trading NFTs on the platform.
If you can't sell your items, you don't own them.
So what else sets GameTrade apart from other NFT marketplaces? For starters, it offers the unique ability to trade and rent items, giving users new possibilities for the in-game NFT economies. This is something that many other NFT marketplaces do not offer, and it has the potential to revolutionize the way in which NFTs are used and traded within games. GameTrade also supports multiple chains, so users don't have to miss out on NFTs that exist on other chains. This makes it easy for users to access a wide range of NFTs and to trade across different blockchain platforms.
And, with its focus on the game industry, GameTrade stands out from well known platforms like OpenSea and Rarible, which are more general in nature and do not have the same level of specialization in the gaming sector.
According to co-founder Doykhen, " We believe only in real practical use of NFTs in gaming and build our platform based on current-gen game item trading tradition. We consult with multiple professional gamers and game item merchants to ensure our platform meets their demands. "
Using the platform
To use GameTrade, you will need to first create an account on the platform. This can typically be done by visiting the GameTrade website and clicking on the "Sign Up" button. You will then be prompted to enter your email address and create a password, and may also be required to agree to the platform's terms of service and privacy policy.
Once you have created an account, you can start exploring the platform and participating in activities. Some of the things you can do on GameTrade include:
Buy NFTs: You can browse the marketplace to find NFTs that you are interested in purchasing. You can use the platform's search and filtering options to find specific items or browse through the available categories. When you find an NFT you want to buy, you can add it to your cart and proceed to checkout.
Sell NFTs: If you have NFTs that you want to sell, you can list them for sale on the platform. You can set a fixed price or opt to hold an auction, and you can also add details and photos to your listings to help attract buyers.
Trade NFTs: GameTrade allows users to trade NFTs directly with one another. You can search for specific items or users, or you can post your own trade offers and see if anyone is interested.
Rent NFTs: If you have NFTs that you don't want to sell, you can also rent them out to other users on the platform. You can set the rental period and price, and GameTrade will handle the transaction and ensure that you get paid.
Engage with the community: GameTrade has a strong community aspect, with features like messaging, news feeds, referral programs, and user reviews. You can use these features to connect with other users, share your thoughts on games and NFTs, and learn more about what is happening on the platform.
The platform features a blog to help new users get started with guides to setting up an account and using the marketplace.
Conclusions
Overall, GameTrade is a usability-first and community oriented NFT marketplace that is well-suited to the needs of web3 gamers, earners and NFT traders. Its wide range of features, solid security measures, and focus on the gaming community make it a strong and growing destination for anyone looking to buy, sell, or trade virtual in-game NFTs.
Visit the GameTrade marketplace
Follow GameTrade on Twitter
Join the GameTrade Discord community
Disclaimer: This is a paid release. The statements, views and opinions expressed in this column are solely those of the content provider and do not necessarily represent those of Bitcoinist. Bitcoinist does not guarantee the accuracy or timeliness of information available in such content. Do your research and invest at your own risk.