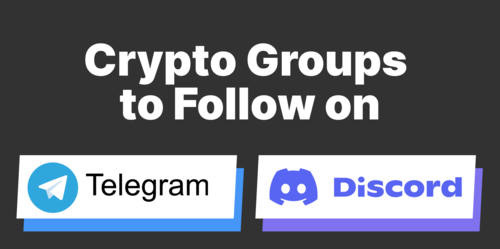 ---
Key Takeaways:
Joining Telegram and Discord groups can help you stay updated on the latest trends and developments in the crypto space, while connecting with like-minded people.

Depending on your interest, you can use the table of contents to navigate to specific sections like niche crypto alphas or airdrops.
---
2022 was a rocky year for cryptocurrency, with the prices of many cryptocurrencies dropping by over 90%. However, despite the ongoing bear market in the cryptocurrency space, what better way to start 2023 than to connect with like-minded individuals and stay informed about the latest crypto news and analysis? 
Telegram and Discord groups dedicated to cryptocurrency can be a great resource for those looking to stay informed and engaged with the community during a bear market. You may be surprised to know there are still many passionate individuals and communities dedicated to following and discussing the latest developments and trends in the cryptocurrency industry. 
In this article, we will highlight some of the top crypto Telegram and Discord groups that are could be of value to crypto investors or those interested in the latest developments in the space, which you might wish to subscribe to in order to continue growing during this bear market. We selected these groups based on content quality, membership size, and frequency of posts. 
The data for the groups were collected on January 10, 2023. 
General Crypto Market News
Are you too busy to keep up with everything that is going on? These groups help to summarize the latest events so that you can stay on top of everything big happening in crypto.
Unfolded (92,400 members)
If you are looking for the latest crypto market insights, Unfolded is a Telegram channel has been around for years and is approaching 100,000 subscribers. They go through crypto data, latest news, and is overall a source of timely information if you are a crypto investor who wants to stay on top of things.
The Block News Feed (11,300 members)
The Block News Feed is The Block's official Telegram feed for news and research articles where they cover many of the big news headlines happening in crypto throughout the day. A must-subscribe if you want to stay on top of all the breaking news in crypto.  
Messari (6,300 members)
Messari is an online database for the crypto space, and their Telegram channel is a great way to get up to date on their crypto related research that uses both data-driven and thesis-driven approaches, allowing users to gain an edge over the crypto market with professional grade data, tools, and research.
Crypto Goodreads (2,100 members) 
Crypto Goodreads is a smaller Telegram channel sharing an archive of crypto related tweets, threads, articles, blog posts and more, which the author finds interesting within crypto. The author shares stuff that is less mainstream, which may give you an edge and insight over the other bigger channels which often share the latest news (that have already been shared countless times). 
Duo9 (2,900 members)  
Duo9 is an active Discord community focused on Bitcoin development, BTC trading discussions, as well as general crypto news and events. Duo9 was founded by a seasoned technical analyst who bought BTC in 2014.
Bonus: CoinGecko News
CoinGecko News includes a daily roundup of the price movements of BTC and ETH, along with a summary of the day's top news and biggest developments in the crypto space. 
Chart-Driven Crypto Trading
Love looking at charts and data to decide on trading setups? These groups should make you feel right at home. Do note that the list below is shared for informational purposes and should not be taken as financial advice. 
TraderSZ TA (68,300 members)
TraderSZ TA is one of the biggest Telegram channels focused on sharing cryptocurrency trading setups, purely focusing on charts and price actions. 
Example: 

Crypto Insights (61,600 members)
Crypto Insights is one of the biggest crypto trading channels on Telegram with over 60,000 subscribers, with a focus on sharing charts and trade setups. A great channel for technical traders who want to check their biases or compare charts. 
Example of trade setups shared by Crypto Insights:

Cryptoquant (49,200 members)
Cryptoquant is a data platform that allows you to track daily Bitcoin overview, on-chain data analytics, price, statistics, derivatives, DEX trades, charts,trending articles, etc. They provide one of the most comprehensive sources on-chain and market data, which is gathered from the blockchains and have a Telegram group where they share some of these charts accompanied with insights shared by some of their experts. 
RektProof PA (44,200 members)
RektProof PA is a Telegram channel that focuses purely on crypto price action using TradingView charts. 
Example of chart setups: 

Glassnode (47,800 members)
Glassnode's Telegram channel offers amazing insights to on-chain market analysis and shares advanced charts, data, and insights for investors in Bitcoin and other digital assets in their weekly YouTube series called "The Week On-chain". A definite recommend for anyone keen on using on-chain data to find their way around market conditions. 
Niche Crypto Alphas and Insights
If you are looking for something a little more niche and advanced with a focus on DeFi, these groups should be a good fit for you. 
Blocmates (4,500 members)
Blocmates is a Discord community that focuses on deep crypto insights and publishes long-form research articles about various trending, overlooked, and new protocols in the cryptocurrency industry. They also have a YouTube channel where they host interviews with various leaders of crypto protocols. 
Lobster DAO (20,900 members)
Lobster DAO is an advanced crypto group on Telegram that is dedicated to research around economics, governance, tech and projects in general with lots of protocol founders and data-driven researchers. Recommended for seasoned crypto analysts or just anyone that likes to go deeper into research and better understand protocol mechanics.  
The Babylonian (1,200 members)
The Babylonian is a Telegram cryptocurrency community mainly based in Asia led by an ex-Huobi analyst, mainly helping users to keep up to date with the latest crypto news and developments. He also runs a YouTube channel where he does valuation analysis to try and determine fundamentals of various DeFi protocols using traditional valuation methods.
All crypto resources can also be found at his notion here. 

Investing Beanstock DAO (1,100 members)
Investing Beanstock DAO is a fast growing and active Telegram group with many users from Asia discussing anything about crypto, investing or personal finance. Discussions about the latest protocols and DeFi trends usually happen here and is a great place for users in the region that are active in crypto. 
DiamondCrab Crypto (850 members)
DiamondCrab Crypto is an under-the-radar cryptocurrency group on Telegram that shares some of the latest crypto alpha and news (like holiday freebies) that may not be shared in bigger channels. They also have a Notion page that has a ton of research covering all kinds of tokens from Layer 1s and Layer 2s to Infrastructure and Gaming. 
Defi Dojo (10,900 members)
Defi Dojo is a Discord community founded by a DeFi educator and strategist who also runs a YouTube channel that covers various delta-neutral farming methods. It is a great community for crypto users who are looking to do yield farming. 
Macro and Crypto News
Are you coming into crypto from traditional finance? These groups shares insights about the macro environment and how it might affect cryptocurrency. 
Wu Blockchain (11,700 memberes) 
Wu Blockchain is a Telegram channel founded by Colin Wu, a crypto news reporter with a focus on Asia, and is one of the best and fastest sources of news when it is related to China. He usually shares macro-level TradFi and crypto news that is related to larger established companies rather than individual tokens. 
Treehouse Insights (12,300 members)
Treehouse Insights is a Discord community where they view DeFi through the lens of TradFi. They share daily news from the traditional finance ecosystem as well as the latest in crypto. They have resources ranging from introduction to DeFi to deep research and insights, as well as a large community that talks about both TradFi and DeFi. A great community for those coming from traditional macroeconomics and investing, and are looking to jump into crypto. 
QCP Capital Broadcast (11,400 members)
QCP Capital is a full-suite crypto asset trading firm and are famous for market making services especially for options on Deribit. They have market experts that regularly share about the broader macro markets as well as the crypto markets on their QCP Capital Broadcast Telegram channel, sharing indepth and industry insights. 
Token Airdrops and Unlocks
Some token airdrops can be worth thousands, and some token unlocks can cause you to lose thousands. Stay ahead of the game by joining these groups. 
Token Unlock (640 members)
Typically unlocks causes selling pressure, which can happen before, on the day, or after the token unlock. But knowing when the unlock happens allow you to analyze a token's price in relation to the unlock, which can be an opportunity to trade. Token Unlock is a helpful Discord group that focuses on token unlock dates, which can help event-driven traders to configure trade setups that approaches big unlocks. 
Olimpio Alpha (14,400 members)
Olimpio Alpha is one of the largest crypto groups for users looking for DeFi, airdrops, and crypto real time alpha notifications with over 14,000 subscribers. As this is a Telegram channel, you won't see much spam unless you click into conversations under each post.  
Airdrop Official (18,300 members)
Airdrop Official is a Telegram channel that lists only genuine and worthy airdrops on legit protocols that have not yet launched a token with a chance of giving an airdrop to early users. 
Conclusion
The bear market is often the best time to research and get ahead of the crowd so that you can reap the rewards of the hard work you'll put in during a bull market. One of the best ways to do so is by staying informed and connected with the crypto community, which is crucial for anyone interested in this rapidly-evolving field. Joining relevant Telegram and Discord groups can be a great way to stay up-to-date on the latest news, trends, and insights, as well as connect with like-minded individuals.
We hope that the groups highlighted in this article will help you stay ahead of the curve in the crypto world. Remember that every groups have different tone, posting schedule and members so it's good to try out several to see which one fits your preference. As always do your own research before engaging in any investments.
This article is meant for informational purposes and should not be taken as financial advice. All views expressed by the listedTelegram and Discord channels do not necessarily reflect those of CoinGecko.
Tell us how much you like this article!
CJ
CJ sold his property to go all-in on crypto in March 2020 and now spends his time sharing about decentralized finance products through educational videos and articles.
Follow the author on Twitter @fishmarketacad